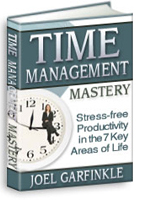 Price: $39.00
Order Now
A Personal Growth Book for Stress-Free Productivity in the 7 Key Areas of Life

I was working evenings and weekends. My job was literally sucking the energy out of me. This book helped me get control of my life by teaching me the importance of balance. My number of hours dropped in almost half, my productivity soared and for the first time in years, I'm actually enjoying my job!
Time Management Mastery can help you manage your time and achieve the success you desire and deserve. Immediately after your payment has been approved, you will be provided with a link to download this e-book in PDF format.
If you'd like to order a hard copy, please contact Joel directly. Discounts are available for large orders.
Within the pages of this personal growth book, you will learn how to manage your most valuable resource: your time. So many executives believe that in order to meet the demands of their career, they must sacrifice their personal lives. In Time Management Mastery, you will learn that this is simply not true. In fact, an imbalanced life — one where you are struggling to make time for yourself — can actually erode your career over time. Joel Garfinkle shares his wisdom gleaned from over two decades of experience helping executives juggle the demands of high-powered careers and lives. Purchase Time Management Mastery and earn stress-free productivity in the 7 key areas of life:
Time
Projects
People
Schedules
Information
Work-Life Balance
Abundance
An Instructive Personal Growth Book
Success doesn't happen in a vacuum. Similarly, when you have trouble at work, it can affect all areas of your life. Joel Garfinkle, one of the top 50 executive coaches in the U.S., has developed a process for time management that addresses these 7 key areas of life. Time Management Mastery will help you achieve new heights of career success. You will learn:
What matters most to you
Where you want to go with your life
Methods for creating an action plan
How to finish the important tasks first
Techniques for saying yes to what you want
Four ways to say no at work
The high price of wasting time
Ways to plan for efficiency
How to avoid time traps and procrastination
Strategies for budgeting your time and energy
Nine schedule tamers
Techniques for enjoying more by promising less
Ways to plan and complete projects, and effectively
How to build a solid support system
Methods for managing information
The lessons that resistance teaches
Top 10 ways to set boundaries
Five ways to reduce your workload
Methods for overcoming workaholism
How to use personal reserves to build true wealth
Ideas for increasing vitality by slowing down
Ways to balance work and play
How to stop chasing and start embracing
Methods for improving your balance by improving your attitude
The art of orienting your life around fun
And more…

This book taught me how to manage the seven key areas that influence my ability to get what I want in life: time, schedules, projects, information, people, abundance and my work/life balance. I gained insights into managing my time and life more effectively (and with less stress) than ever before. I have mastered the ability to manage my time so I get the most out of my whole life.
Time Management Secrets
To determine whether Time Management Mastery is the personal growth book that will help you manage all the demands on your time, take a look at these free samples:
Whether you need instruction in information management, work efficiency, or boundary-setting, Time Management Mastery will help you take control of your career so that it no longer takes over your life.
If you would like to benefit from Joel's nationally-acclaimed executive coaching services, contact him today and learn how a 6-12 month coaching commitment can bring you long-deserved career success.
Click here to view other personal growth books authored by Joel Garfinkle.