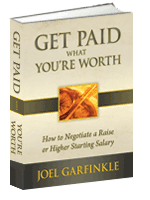 Price: $49.00
Order Now
Salary Negotiation Strategies eBook

I was making only $50,000 with a wish to make $70,000, but Joel recommended I ask for the unbelievable amount of $94,000. I was surprised when my employer accepted.

Immediately after your payment has been approved, you will be provided with a link to download this e-book in PDF format.
This book provides proven salary negotiation strategies to effectively negotiate a raise or a higher salary when starting a new job. You will learn how to get paid what you are worth and to maximize your earning potential. Whether you're considering a new job or asking for a raise, Get Paid What You're Worth will teach you the salary negotiation strategies you need to negotiate the highest amount possible.
This book is jam-packed with proven strategies, insider tips, and salary negotiation secrets. Salary negotiation doesn't have to be scary. Many executives are reluctant to ask for a raise or negotiate for the highest salary because they fear injury to the status quo. This book will give you the confidence you need to approach the salary negotiation task from a position of strength.
Joel Garfinkle has demystified the process of negotiation. In Get Paid What You're Worth, you will learn crucial skills that simply aren't taught. (These are the secrets of successful executives.) More information on the table of contents can be viewed here:
You Will Learn:
Preparing to Negotiate
15 do's and don'ts of negotiation.
8 websites to research the market value for your position.
12 ways to find the appropriate salary for your position.
Capitalize on the 8 best times to negotiate.
Best Practices
10 common mistakes to avoid during the negotiation.
22 proven strategies to become the #1 candidate so you can negotiate a top salary.
4 effective ways to get your employer to appreciate your value.
8 requirements necessary before an employer can understand what you're really worth.
Secrets to Negotiate the Highest Amount
15 secrets to negotiating the highest amount.
8 yes's for every no on why you deserve a raise.
5 of the most common fears that make you reluctant to ask for a raise.
4 things your company considers when giving a raise.
52 benefits, perks and concessions to negotiate.
Negotiation in Action
4 ways to respond when asked about your last salary.
5 proven stories that demonstrate your worth.
2 ways to respond when the salary is discussed early in the conversation.
10 objections to be prepared to overcome.
7 ways to follow-up to get the desired amount.
Securing the Best Offer
10 ways to get the raise or salary that feels impossible to achieve.
Track 16 items to present an ironclad case for a raise.
5 proven techniques to implementing a negotiation strategy that gets the highest amount.
4 questions to ask yourself to evaluate how your negotiation performance went.
17 things to consider before accepting a job offer.
By following these proven salary negotiation strategies, you can obtain the salary that matches your market value. It's time you get the salary you deserve.
Purchase Get Paid What You're Worth and learn how to overcome objections, demonstrate your worth to the company, and capitalize on your past successes to secure the top salary of your dreams.
As a direct result of my work with Joel, my salary and benefits went up 20%, my autonomy within my organization reached unprecedented levels, and I learned how to create islands of excellence in an academic institution. It was the best money I ever spent, and my suspicion is that you will find the same.