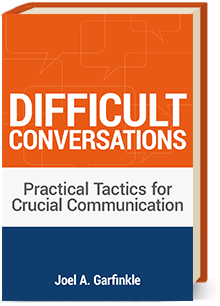 Price: $12.95
Order Now
Practical Tactics for Crucial Communication
Conflict. Confrontation. Controversy. Disagreement. Tension. They happen in the workplace—and in life.
Would you like to know how to talk effectively about touchy topics?
Could you use some techniques for dealing with defensive or unpleasant co-workers, something you can use even before the conversation begins?
Immediately after your payment has been approved,
you will be provided with a link to download this ebook in PDF format.
Difficult Conversations provides a step-by-step plan to help you prepare for conversations about situations such as these:
Your co-worker hurls sarcastic insults your way at every opportunity.
An employee grumbles and complains about everything.
A teammate blows an important presentation.
You want to ask for special accommodations.
How would you like to have a road map to follow as you prepare for and engage in these difficult conversations? In this ebook, you'll learn how to discuss what matters most with your co-workers and employees in a non-confrontational manner. By following this 8-step plan for conducting difficult conversations, you will be able to make the other person feel heard and understood and then work together to come up with a solution.
Conflict happens—even between people with strong working relationships. Difficult Conversations will help you improve your communication and conflict-resolution skills so you can get to the root of the problem—and resolve it—without damaging the work relationships you've worked so hard to build. Order your copy now and start tackling those difficult conversations right away!