Most leaders who lack executive presence still produce, perform and excel at their jobs. This is good news for the company—they are valued and productive. However, as they move to higher levels of leadership, they need to meet the new demands of that level and know how to act the part. Now they are reaching a wider net of important people (above, below and at the peer level) and the impact of influencing them becomes greater. The higher a person rises in the organization, the more executive presence is required for success.
Talent management consulting helps equip employees with the most vital competitive advantage they can contribute to the company's success. Clients who participate in this coaching program find new ways to improve the company's operations and bottom-line performance. And, as they develop and use each of the sixteen executive presence behaviors, they'll enhance their own job security and career advancement opportunities. Through executive presence coaching, the organization better equips itself for intense competition from other companies, globalization, technological advances and the complexity of today's business.
Joel has given me valuable guidance on how to coach and develop my direct reports, helping me to navigate through some difficult decisions. And perhaps most significantly, Joel has helped me budget my weekly and daily work by priority and link to my annual objectives.
Executive presence is difficult to pin down. Human Resources or the company's top executives describe executive presence by saying: "We know it when we see it." They question whether it can actually be developed and learned.
As an employee, you need to act the part in order to be an essential member of your department and advance through the management ranks. Learning and using these sixteen behavior traits will quickly move you toward the levels of management and responsibility that you desire. In addition, you will make a strong contribution and have a powerful impact on your company's bottom line. You will become a more valuable employee and, in turn, you will boost your company's value.
Hire Joel Garfinkle
today for access to top-notch consulting services. Talent management coaching is the most cost-effective way to protect your company's bottom line and drive your organization forward.
The Executive Presence Model
The Executive Presence Model displays 16 executive behaviors that fall into five categories. Understanding and using these behaviors develops a well-rounded executive presence. Each category enhances your overall career development so you can become one of the most influential executives in your organization.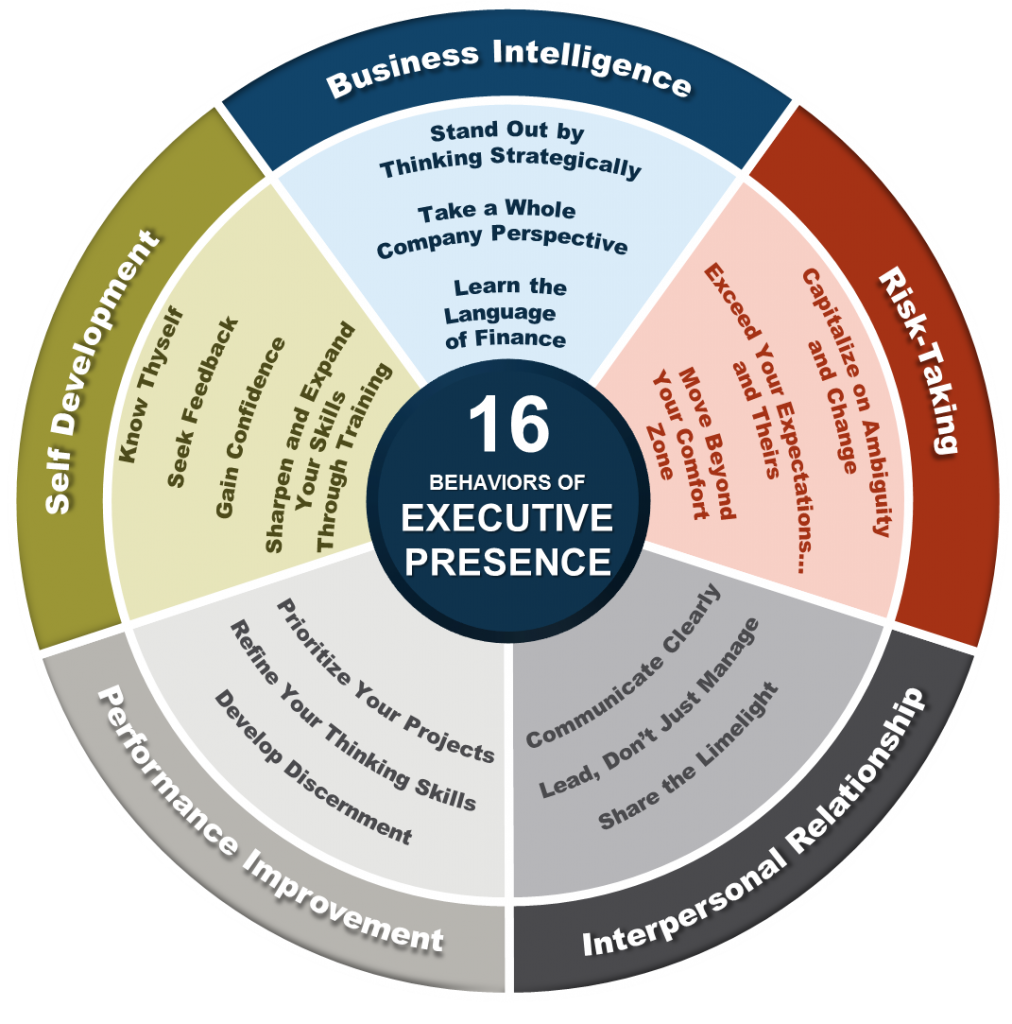 Five Characteristics of Executive Presence
This coaching program focuses on five key characteristics:
Business Intelligence As you think strategically you gain the business intelligence to help improve your performance and work quality. You adopt a whole-company perspective and communicate your worth in financial terms.
Risk-Taking You become a skilled risk-taker who is willing to confront ambiguity and change and go beyond the expected levels of responsibility and influence.
Interpersonal Relationships You develop solid interpersonal relationships and use your communication skills to be recognized as a strong leader.
Performance Improvement You improve performance by developing sound thinking skills, discernment and the ability to prioritize.
Self-Development As you develop and know yourself, you improve your confidence and understand how to maximize your potential and that of others.
Through leadership coaching, you will learn how to develop these 16 executive presence behaviors so you can become the most competent, influential leader possible. As you continue to use, grow and build on each of these skills, you will see your executive responsibility rise and your contribution to your company grow.

Executive presence is the secret ingredient that turns good managers into great leaders. Joel's coaching program can get you started today. Hire Joel for his executive presence coaching services.