We Have Coached Clients Around the World
Geographic location doesn't matter – Garfinkle Executive Coaching has coached clients in over 25 countries. All of our executive coaching services are done by telephone coaching sessions and email support. Clients have hired and worked with us from as around the world including Asia, Europe, Middle East, India, Africa, China, Australia, South America and North America. However, we will conduct in-person coaching sessions if that's what the company or client prefers.
I have transformed my mindset and behavior to be a more effective and fine-tuned executive. I've increased productivity by 20-25% and have managed tasks more effectively, including increased delegation and leveraging of my time.
Business coaching for women and minorities
Provides support for underrepresented employees.
Personalized coaching sessions are designed for women and minority employees seeking promotions and stepping into leadership roles. Business coaching for women and minorities emphasizes not only gender and racial equality, but capitalizing on your talent pool of high-potential employees.
How Much Time is Required?
Your results will depend on your commitment and your circumstances. Most Garfinkle Executive Coaching clients report improved performance within six to nine weeks. Coaching relationships with executive coaching specialists often continue for at least twelve months due to the time required for changes to become permanent.
Are you in need of business coaching for high-potential
women employees? Contact Joel Garfinkle today and learn how to groom
and recruit more women leaders to your organization.
Click Here
What do Executive Coaching Services Include?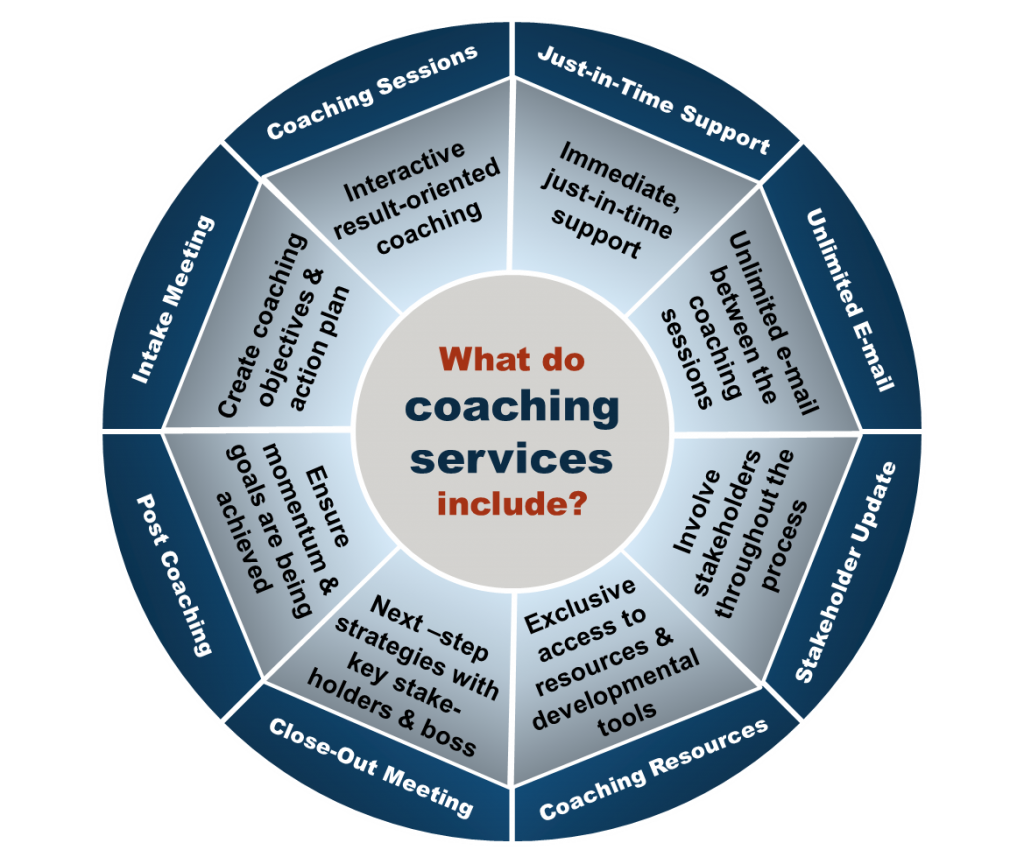 Intake meeting — Identify coaching objectives and design outcome-based action plan. Meet with manager, coaching participant, and any other stakeholders.
Phone coaching sessions — Implement required action so the desired results can be achieved. Three forty-minute scheduled telephone coaching sessions per month.
On-the-spot coaching — Immediate, just-in-time support via the telephone. If any time-sensitive or urgent professional issues need to be discussed, the client can call the executive coaching specialist (outside the scheduled coaching session) during business hours Monday through Friday.
Email support — Unlimited email support between the coaching sessions.Regular, consistent and ongoing contact through email helps the client gain support and feedback throughout the week. Response time is within 24 hours.
Stakeholder update — Stakeholders receive regular progress reports. The stakeholders are identified and ongoing support for the coaching program is clearly agreed upon.
Access to coaching resources — Provides resources for professional development. Over 300+ development tools, learning resources, articles and other content to immediately respond to workplace issues, concerns and challenges such as how to:


| | |
| --- | --- |
| excel as a leader | conduct productive meetings |
| have difficult conversations | provide quality employee feedback |
| improve decision-making | improve communication skills |
| enhance presentation skills | survive office politics |
| grow as a manager | learn to delegate |
| make smart decisions | manage problem co-workers |
| develop presentation skills | enhance performance develop employees development |
| advance your career | motivate subordinates |
| keep employees happy | retain high value staff |
| build positive work relationships | recognize women leaders |
| make progress through change | manage high potentials |
| implement business intelligence and company strategy | reduce stress |
| increase productivity and efficiency | create work-life balance |

Close-out meeting — Meet with key stakeholders, immediate boss and human resources. After the last coaching session, the executive coaching specialist holds a close-out meeting to review the success achieved, create a future action plan, and identify the type of support and resources necessary to continue the executive's development.
Post coaching follow-up meeting — Meet with coaching participant to discuss progress. One free follow-up meeting will be scheduled to check-in with the coaching participant's progress. This occurs 6-8 weeks after the completion of the coaching engagement.
Joel Garfinkle is an Executive Coaching Specialist who is Committed to:
A results-driven process
Objective, thought-provoking questions
Constructive and immediate feedback
Solutions and options
Intuitive and empathetic listening
Coachable moments
Successful action plans
Identifying ways of overcoming obstacles
Plan implementation
Support through follow-up
Actionable feedback
Absolute confidentiality
Cost of Services
To learn more about the cost of the executive coaching program, please contact Joel Garfinkle right now.
Who Pays for Executive Coaching Services?
Choose one of these three options when deciding how to pay for your investment in a coaching partnership.
Company-sponsored executive coaching The organization pays for the executive coaching program.
Partially company-sponsored executive coaching The organization pays a portion of the amount and the client pays the remainder.
Individual investment in executive coaching The client pays for the executive coaching.
Coaching is an investment, not an expense. This investment pays off
by creating highly motivated, productive executives and managers
whose results show up on the bottom line. To begin your executive
Coaching experience, email Joel.
Click Here