What's really driving the boom in coaching is this: as we move from 30 miles an hour to 70 to 120 to 180… as we go from driving straight down the road to making right turns and left turns to abandoning cars and getting motorcycles… the whole game changes, and a lot of people are trying to keep up, learn how not to fall.
Garfinkle Executive Coaching has worked with more than a thousand coaching clients in twenty-five countries and has been recognized as one of the top 50 executive coaches in the U.S. As an executive coach, Joel has extensive first-hand experience working with many of the world's leading companies, including Oracle, Google, Amazon, Deloitte, The Ritz-Carlton, Gap and Starbucks.
Joel's 17 years of experience in developing, producing and implementing executive coaching programs have proven valuable in knowing the top five factors to consider when creating a successful executive coaching program.
Joel's coaching helped me identify and implement new strategies that allowed me to take my career to a new level. Joel provides valuable guidance and perspective and his passion is evident in every session. I highly recommend Joel's executive coaching services.
Guaranteed Coaching Success
Five ways to avoid coaching failures and maximize your coaching ROI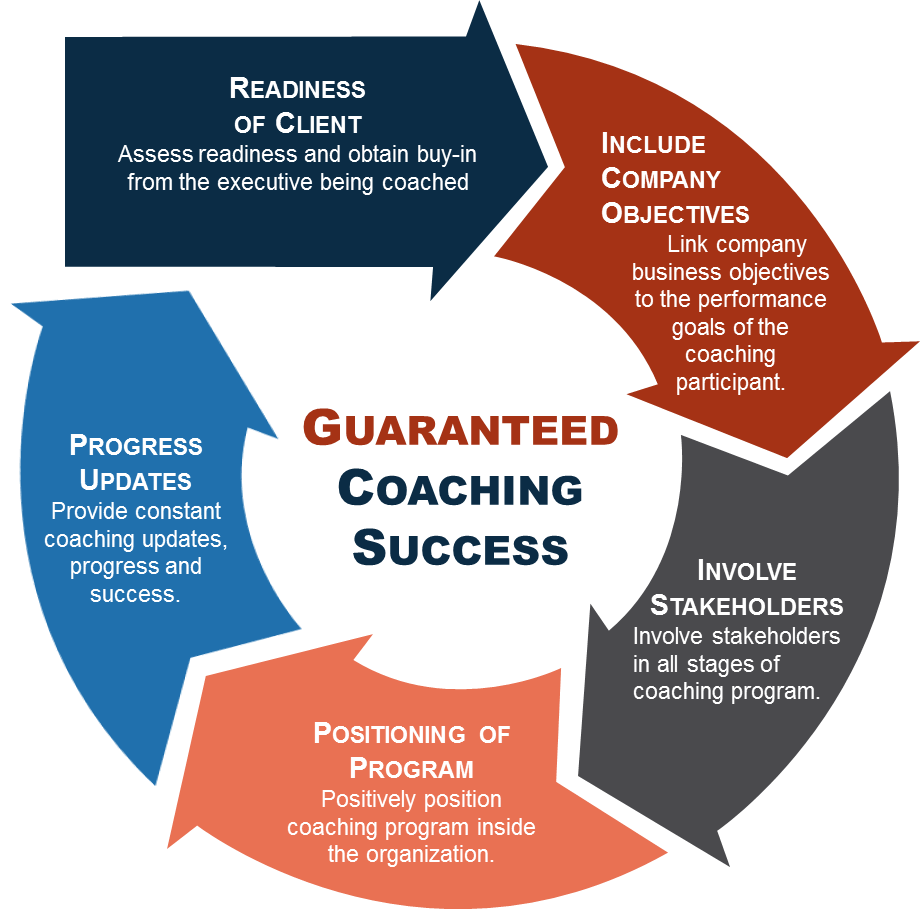 Brief the executive before starting the coaching program. An executive needs to be committed and motivated. The coaching partnership provides a solid context to make changes and implement developmental goals. Trust and confidentiality is paramount. Gain executive buy-in for coaching. Clear guidelines and goals will be reviewed and put in writing.
Link company business objectives to the performance goals of the coaching participant. Coaching doesn't occur in a vacuum. The company needs to see bottom line results in order for coaching to succeed. Coaching provides the greatest impact when the company's overall strategy, department needs and individual goals are considered. This alignment will provide the maximum business impact to the company's bottom line.
Gain support for the coaching engagement. Without top management support, coaching becomes an exercise in futility. Lack of strong internal sponsorship by top management, key stakeholders, human resources and the executive's immediate boss is the number one reason why coaching programs fail. Having the boss support coaching by being actively involved throughout the process is critical. In addition, senior management needs to actively advocate for the program and its importance. All the players need to notice and express the progress, successes and continued improvement directly to the coaching participant.
Positively position the coaching program inside the organization. Without organizational acceptance, the executive is set up to be unsuccessful. Position the coaching program in the organization so that people have respect for the coaching concept, stand solidly behind it and actively support it. People need to see coaching as positive and developmental, rather than simply remedial. The company should prioritize the development of leaders and high potentials instead of targeting only poor performers. Educate others about the bottom line impact of executive coaching on an organization's performance. Top leadership needs to see how coaching directly impacts the company's success. Coaching new leaders facilitates succession planning, leads to greater job satisfaction, and attracts top talent to the organization.
Provide constant coaching updates, progress and success. If management doesn't see clear progress, they may assume there is none. Throughout the coaching engagement, the executive will share weekly email progress updates with the sponsor, human resources, immediate supervisor, key stakeholders and other influential executives. Once every three months, (a) the coach will sit down with the immediate supervisor to review progress, outline areas for improvement and suggest solutions to meet the coaching objectives; (b) During this meeting, the immediate supervisor, sponsor and human resource professional will meet to provide feedback on what they notice has changed, new data to focus on and the overall progress of the coaching program.
The Garfinkle Executive Coaching Program
Why You Will Be Successful
Garfinkle Executive Coaching takes into account your organization, its culture and your specific work relationships.
As you receive practical, real-time feedback and counsel from the executive coach, you will be able to identify specific behaviors that can be improved immediately. This partnership accelerates your success and performance progress. The value and bottom line impact of the coaching program will be clearly seen in an extremely quick time frame. These are the three outcomes you will experience.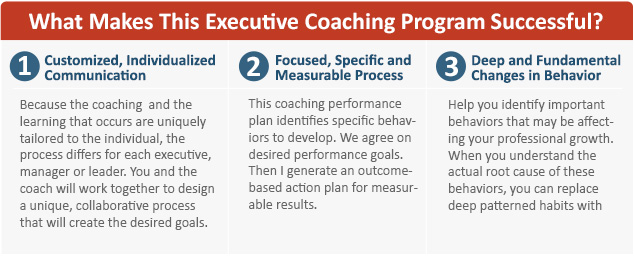 Note: When companies and organizations look for an executive leadership development program, they should make sure the coaching firm under consideration has a strong track record of delivering in all three areas described above. Garfinkle Executive Coaching considers them its top priority. As a result, Joel's program is in high demand.
Utilize the two keys to executive success
As a talent development specialist, Joel will help you advance your career quickly, create lasting change and experience long-term success. He does this by emphasizing two key personal assets: Self Awareness and Action.
Self-awareness
The relationship you and your executive coach build together will help you understand your needs, values and belief systems, as well as help you gain a greater awareness of your strengths and limitations. You'll learn what motivates and inspires you and become more honest about what you are capable of achieving.
Success comes to those who know themselves – their strengths, their values and how they best perform.
Drucker is right: to be a self-aware leader, you must know what you feel and think and be aware of how you act. Through coaching you will learn to be in touch with your needs, values, belief systems, emotional and intellectual intelligence, strengths and limitations. You'll understand what drives you. You'll be truthful and honest about who you are and what you can do — your capabilities, performance and potential.
When employees leverage self-awareness, they improve their performance by capitalizing on their strengths and minimizing the number of mistakes. Self-aware employees develop excellent decision-making abilities as a direct result of their self-knowledge. They identify opportunities for success that help them thrive in their careers.
Action
Clients who choose Garfinkle Executive Coaching take action. As an executive coach with two decades of experience, Joel makes sure that an outcome-based action plan is created and followed. He starts by ensuring the client is fully committed to the coaching process and dedicated to taking the necessary time required to create success. When obstacles or roadblocks appear, Joel will work with you to take concrete and positive steps forward. The main focus is to always produce results, change behavior and enhance performance.
How the executive coaching program improves your bottom line
Employers are shocked at how high their ROI numbers are for coaching.
When you look closely at the specific, measurable results as well as the intangible benefits of our executive coaching program, you'll easily be able to identify the value and return on your investment. You'll find that this type of employee retention program improves:
Individual performance and productivity
Decision-making skills
Leadership effectiveness
Relationships with bosses and team members
Team morale and self-confidence
Ability to deal with challenges and setbacks
Job satisfaction
Visibility of value
Teamwork
Work/life balance
Is it time for you to consider an executive leadership development
program? Let Joel help you create the long-term success you deserve.
Contact him today.
Click Here