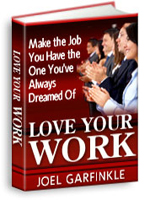 Price: $39.00
Order Now
Job Satisfaction eBook: Make the Job You Have the Job You've Always Dreamed Of
Love Your Work can bring new levels of fulfillment into your work life and will allow you to enjoy working where you are. You can bring more of you and your passion into your work, change your perceptions, and improve your work habits. Turn your job into a dream job you're excited about going to each day.
Immediately after your payment has been approved, you will be provided with a link to download this e-book in PDF format.
Testimonials
I never imagined I could transform my current job into my dream job. But, that is exactly what this book taught me. I was able to recapture excitement in my work and to create the work situation I always wanted. I began to actually enjoy my work and look forward to going to the office each day. My job now has personal meaning to me. I've never grown so much in my career… by staying in the same job!
I was frustrated. My career seemed stuck on the 'pause' button. This book helped me bring new levels of fulfillment into my current assignment. I learned how to regularly review my work so that I can continually bring more of what I love to my job. I know how to have open and constructive dialogue with my superiors about my job and how it can better fit who I am. I'm able to reveal more of my gifts and talents so they can be fully utilized in my work.
Use this Workbook for Ultimate Job Satisfaction
In order to love your job, you must practice some self-analysis and really work to identify the causes for your current career slump. Thankfully, Joel has prepared a workbook that will walk you through this process. In Love Your Work, you will learn how to:
Make the job you have your dream job.
Build a strong relationship with your job.
Enjoy your work.
Improve your relationships with coworkers.
Acquire the primary motivators in your work.
Leverage mentoring.
Become a change leader.
Create balance in your life.
Bring spiritual values into your work life.
Improve productivity and efficiency.
Be happy at work.
Use your time productively.
Master information flow.
Increase your effectiveness on projects.
Mine for career fulfillment.
Reinvent your work.
Own your gifts at work.
Love your job.
Sometimes all it takes to move from job dissatisfaction to job satisfaction is a change in attitude and a re-evaluation of your role. Follow the steps outlined in Love Your Work and obtain the job fulfillment you desire without changing jobs. View these excerpts to determine if you are ready to learn Joel's secrets to being happy at work:
In addition to following Joel Garfinkle's executive coaching book, Love Your Work, a coaching engagement with Joel will give you the extra support and guidance you need to transform your attitudes and perceptions about your current job so that you can be happy at work. Job satisfaction doesn't have to be elusive. Identifying what is going wrong with your current job can be the first step towards creating an action plan that allows you to enjoy your work.