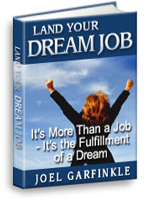 Price: $179.00
Order Now
It's More Than a Job – It's the Fulfillment of a Dream

Thanks to Joel's book, I found my dream job. I actually get up in the morning and want to go to work. I can't believe that they actually pay me to do this job.
Readers are guided through a proven, seven-step action-oriented process that helps them define and land work that matches their natural gifts and passions. Using engaging exercises and tools, you will reveal the unique talents typically hidden under layers of doubts and self-imposed limitations. This remarkably effective process is different from traditional job search paradigms. It works from the inside out, focusing on the whole person instead of just matching job titles with qualifications. Finding or creating a job that rewards each person with the maximum level of personal and professional fulfillment is the goal.
This book has been used with great success to guide clients from virtually all professions find fulfilling vocations. Land Your Dream Job is filled with 200 pages, more than 100 unique exercises, and information that will help you throughout your career.
Immediately after your payment has been approved, you will be provided with a link to download this e-book in PDF format.
If you'd like to order a hard copy, please contact Joel directly.
Discounts are available for large orders. Please email me for more information.
Testimonials
Joel has created an amazing workbook called Land Your Dream Job. The truly great thing about this book is that it really works! I now have more clarity in several key areas including the essence of my gifts, talents and top values. In this workbook, change is truly possible if one is willing to put in the effort to explore what is really essential to create in life. I continue to refer back to this book often, and find it to be a great resource.
Land Your Dream Job is highly motivational and extremely effective using inspirational quotes, encouraging stories, and insightful exercises. Joel brings the reader's dreams to life and actually makes them obtainable through a tried-and-true-step-by-step-action-oriented methodology.
The dream job process is much more than a job search. It really helped me define who I am, what I want in life and where I want to go.
This book helped me uncover my passions and follow a career path I had not thought was possible.
Be Happy at Work
Spending years, or even decades, performing a job you hate or just aren't crazy about is detrimental to your physical, emotional, and spiritual health. Learning how to land your dream job will help you take stock of your skills and experience and perform the necessary soul-searching required in achieving ultimate job satisfaction. In Land Your Dream Job, you will learn:
What a dream job is.
Obstacles to making your dream job a priority.
The difference between skills, gifts and passions.
To turn innate gifts and passions into ideal work and job satisfaction.
How to create deeper meaning in your life.
To leverage your most fulfilling experiences and translate them into opportunities at work.
How to move from stagnation to greatness.
To identify the barriers that block your innate gifts and talents.
How to overcome limitations and barriers.
To inspire yourself to action.
How to free yourself from your rational brain.
The top 10 reasons why you must have your dream job.
The top 10 ideas to explore when you don't know what your dream job is.
What you are meant to do.
To examine what your heart desires.
How to cultivate your intuition.
To define your dream job.
How to formulate your strategy to land your dream job.
How to create role models and support to land your dream job.
How to overcome discouragement and self-doubt.
These and other strategies will help you determine your ideal job that aligns to the essence of who you truly are. Land Your Dream Job will help you identify, define, and obtain the job that will lead to increased job satisfaction.
More Information on How to Land Your Dream Job
Being happy at work is difficult for a lot of people. Often this is because they are in jobs that are a poor match for their skills, interests, lifestyle, and/or beliefs. Read the following excerpts from Land Your Dream Job to determine if this is the book will help you find the job that will make you want to go into work every day:
Job satisfaction can be elusive. There is an art to attracting and landing the job that best suits you. In dream job hunting (both for himself and for his clients) Joel Garfinkle has learned what it takes to land your dream job: how to overcome obstacles, how to allay internal doubts and fears, and how to implement sound strategies for entering your chosen career path. Buy Land Your Dream Job and benefit from Joel's extensive knowledge and experience.
You owe it to yourself to be happy at work. Contact Joel for dream job coaching today.
Hire Joel Today!