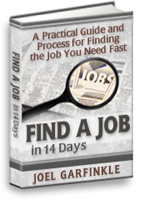 Price: $39.00
Order Now
Tips for Finding the Job You Need Fast
The workbook is a great step-by-step tool to keep you motivated and use as a reference throughout your career-search process. The confidence it gave me is amazing.
Immediately after your payment has been approved, you will be provided with a link to download this e-book in PDF format.
Career Change Tips for Job Seekers
This book will teach you how to Find A Job In Only 14 Days – even if you aren't motivated, don't have a résumé or have nightmares about job interviews! If you want the confidence and results that come from using a proven job search system, then this book is for you. Whether you want a better job, more money or a complete change of career, this book will help you get through the job search process as quickly and successfully as possible.
Joel has put together an incredible guide. On day twelve, I learned the top ten questions most employers ask. It turns out, the answer to these questions tells them if you're the right person for the job.
What Are Some Tips for Finding a Job?
Within the pages of this instructional ebook, you will find essential career change tips to bring you from job searcher to new hire in just 14 days. You will learn:
The secrets to finding the job you need fast.
Essential interviewing skills that will help seal the deal.
The psychology of negotiation and how to get what you are worth.
The top ten considerations before accepting any job.
The sure-fire secret to networking your way into a high-paying job.
How to survive the fallout of unemployment.
How to create a winning resume.
How to multiply your network and let others find your next job for you.
The ten toughest interview questions and answers that get you the job.
How to create a step-by-step action plan to keep you motivated.
How to successfully answer mind boggling and challenging interview questions.
When changing careers, job searchers often obsess about salaries and required qualifications instead of beginning the process from a place of inward reflection. Read Find a Job in 14 Days to learn how to partner job-seeking speed with efficiency and you will not only land a job quickly, but you will land the job that is best for you.
What are some tips for finding a job? Read the following excerpts:
If you are looking for some tips for finding a job, Find A Job in 14 Days is your go-to resource when trying to embark on a new career. Job searches don't have to be stressful; they are your opportunity to define your goals, network, and secure a salary that is worthy of your skills and experience.
If you are searching for a new career, your job search needs to be thorough, active, and based on an honest assessment of your gifts and talents.
Contact Joel Garfinkle for career change tips and executive coaching services and learn how to find a good job fast.
Hire Joel Today!