The lack of executive presence is a major concern for companies. Often companies invest substantial resources in an employee who rises quickly through the corporate ranks, only to find that the employee is unequipped to be successful at the higher level. They lack the executive presence and confidence their new role requires. Management begins to question the strength of this person as a leader.
Corporations can't afford to have leaders without presence. When they lack command and conviction it undermines their leadership ability. Subordinates, superiors and peers begin to lose respect for them and credibility goes down. They become less influential at the exact point when being a leader with influence is most needed. What they need is executive presence.
Employees who increase their executive presence know how to assume more responsibility, seek and receive high-profile projects, and perform job functions that significantly impact the bottom line.
Executive presence is not just a theory. It involves specific actions which, done consistently, enhance your leadership skills and raise your profile within your organization.
Joel has helped me raise my team's game to a whole new level and I have learned to delegate more effectively. My relationships with peers, direct reports and key decision-makers have improved markedly, making me a more confident leader who recognizes the impact and value I bring to the organization.
5 Categories of Executive Presence and 16 Executive Behaviors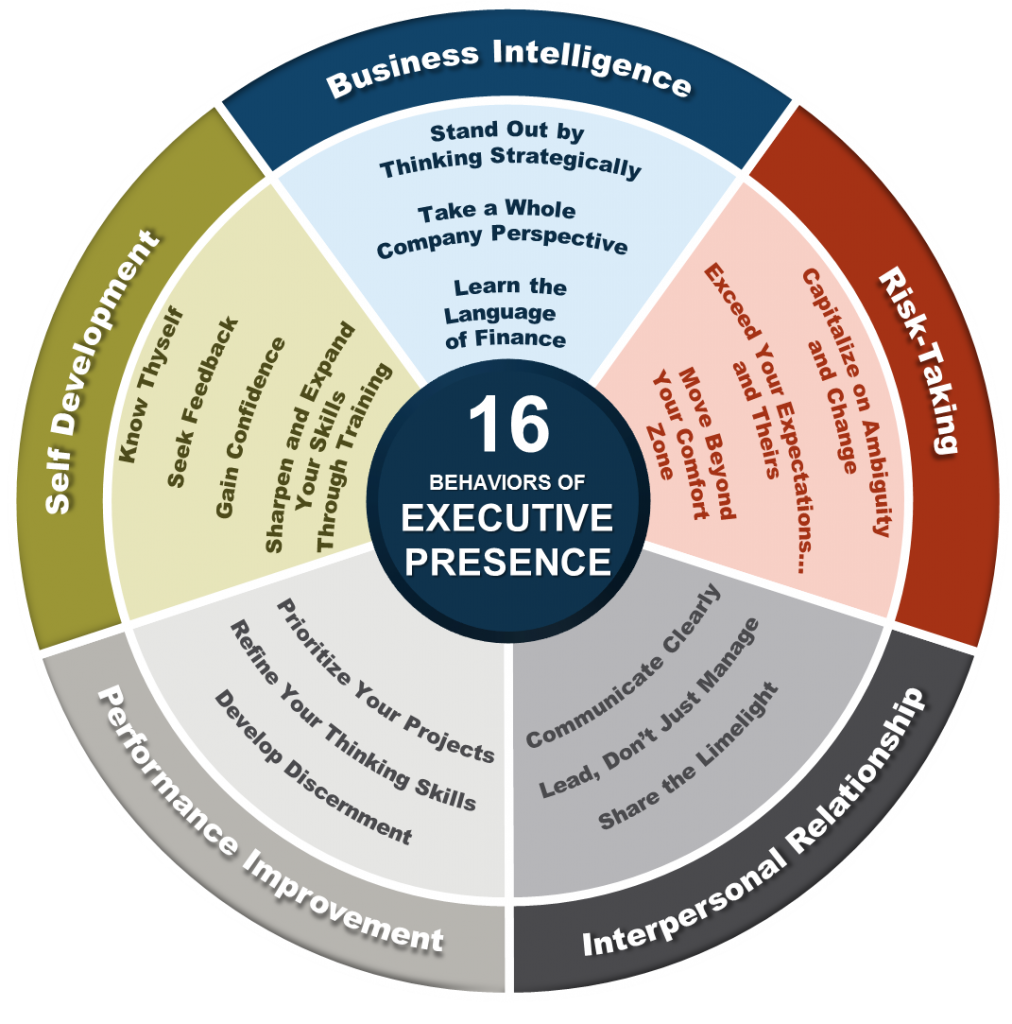 Companies want leaders who know how to act like leaders, whose behaviors demonstrate confidence, influence, and a take charge attitude. Having a leader with executive presence provides an appropriate model for others to follow.
These 16 actions represent the ideal behaviors, mindset and habits of a successful businessperson. Each behavior will help you become a more confident, powerful business leader. You will enhance your ability to stand out, make a difference and have impact in the executive environment.
This leadership consulting program provides a step-by-step process that shows you how to develop the 16 specific behaviors that make a leader. You will exemplify executive presence by implementing all 16 characteristics. You will become your most successful professional self.

Who Will Benefit From Business and Executive Coaching and Consulting?
This executive presence coaching program is for anyone who wants to become a leader or move to higher levels of leadership in the organization. To enhance your current status, you need to know how to advance, what is needed at that next level and how to act that part. The higher you go, the more executive presence is required for success and the more you will benefit from business consulting.
Business coaching can also help you succeed if you're in a new job. The first 18 months are critical and it's not unusual to stumble. Most supervisors want immediate results and don't have the patience to wait for people to grow and mature in their new roles. Having a strong executive presence before you start a new position will help you create immediate impact, a positive perception and lasting success.
Benefits of the Executive Presence Model
When you learn these 16 characteristics you will understand the secrets of standing out, campaigning, visibility, promotion and advocacy. You will learn to dispel doubts regarding your abilities, influence and potential for advancement. You will quickly move toward the levels of management and responsibility that you desire and make a significant impact on the company.
Practicing these 16 leadership behaviors is vital to boosting your executive presence. You will increase your competence and confidence, as well as your level of contribution to the organization. Like an athlete who runs several extra miles a week, strengthening your executive presence is an undertaking that requires dedication, repetition of key elements and time invested beyond the typical work week.
Start working with Joel today so you can gain from his business executive coaching and consulting program.
Hire Joel Today!
The Executive Presence Model
16 behaviors that fall into five categories.
Business Intelligence Behaviors

Stand Out by Thinking Strategically. Elevate your profile by taking a strategic approach to your work. Your "big picture" perspective will prove you're a leader, which is much more than being a manager.
Use a Whole Company Perspective. Think outside the cubicle and learn the ins and outs of your organization. You'll discover opportunities to demonstrate your value and advance your career.
Learn the Language of Finance. Speak the language of leaders. Understanding and communicating in financial terms allows you to show your worth where it matters most – the company's bottom line.

Risk-Taking Behaviors

Capitalize on Ambiguity and Change. Stand confidently above those who are nervous or threatened by uncertainty. Leaders are revealed and careers are made for those able to navigate stormy seas.
Exceed Your Expectations–and Theirs. Fast track your career by being proactive and looking for opportunities where others aren't looking. Champion innovative improvements and you'll speed your ascent to higher levels of responsibility.
Move Beyond Your Comfort Zone. Challenge yourself and stretch your capabilities. Conquer self-doubt and break through self-imposed limitations by seeking opportunities to venture into unknown territory.

Interpersonal Relationship Behaviors

Communicate Clearly. Build confidence, trust and credibility by speaking clearly and persuasively. Your reputation as a top notch communicator will place you in high demand for challenging and rewarding assignments.
Lead, Don't Just Manage. Move beyond the manager role to influence events and people around you. As a leader, you'll inspire and motivate others by advocating what's best for the organization, not just your own work group.
Share the Limelight. Enhance your reputation as a confident leader by sharing recognition with others. You'll boost morale, trust and teamwork, as well as creating opportunities for your advancement.

Performance Improvement Behaviors

Prioritize Your Projects. Improve your productivity, influence and reputation for high achievement when you focus on the things that matter most. Not only will you be a peak performer, you'll maintain a healthy balance in your life.
Refine Your Thinking Skills. Make the best decisions, thanks to your solid thinking skills. You'll get noticed (and rewarded) for your ability to understand and solve complex tasks, analyze issues and concerns and think in reverse from the desired outcome.
Develop Discernment. Navigate stormy waters when you steer by your inner compass. Follow the truth that is at your core and you'll make the most ethical decisions for you and your organization.

Self Development Behaviors

Know Thyself. Understand what drives you, who you are and what you can do. You'll find personal fulfillment and professional success by capitalizing on your strengths and learning from your mistakes.
Seek Feedback. Encourage feedback to demonstrate your passion for self-development and your desire to contribute to your company's success. You'll achieve your full potential and help others achieve theirs as well.
Gain Confidence. Build your confidence by influencing decisions, motivating others and improving your performance. As a confident, self-developed leader, you won't be intimidated by failures or self-imposed limitations.
Sharpen and Expand Your Skills Through Training. Increase your growth potential by investing in the most important asset you possess – yourself. You'll be more marketable within your company, as well as in the increasingly competitive global marketplace.
By learning the proven techniques outlined in Joel's Executive Presence book and leadership consulting process, you will always be on the lookout for opportunities to create impact and influence. You will prove you are excelling at your job, position yourself for political advantage and build relationships with executives in positions of power.
Take the next step forward by investing in business consulting and coaching services today.
Contact Joel
to benefit from his leadership consulting services. Begin to learn and implement the 16 executive presence behaviors and watch your career take off.